Learn How to Surf in the Cold
Robbie Nelson October 10th, 2016 Posted In: Articles, How-To Tags: Surfing
Winter is Coming: Learn How to Surf for the Fall/Winter
When you learn how to surf, it's like meeting someone for the first time. It was probably love at first sight so you threw yourself into it with the wild, reckless abandon that comes with any new relationship. And if you started surfing this past summer, particularly here in the Mid-Atlantic Region, it was a pretty fun time to get started. Lots of small, gentle, warm waves greeted your every session and while the rest of us grumbled about the tiny, gutless surf, you and your new summer fling really got into each other. It was hot and steamy and it seemed like things would never change.
That was until the second week of August when the first long period lines of groundswell from Hurricane Gaston hit your favorite spot. Suddenly those familiar, user-friendly waves were replaced by much bigger, more powerful slabs of water. Those waves looked eerily like the ones from the surf video you saw in the surf shop when you rented your first board and not gentle at all. When you screwed up they held you underwater for way longer than you expected and the current swept you down toward the rocks. For the first time in your fledgling surf experience, you were truly scared and you both charged forward and learned a few things or you sat on the beach, staring at the ocean in disbelief. How could your summer love do this to you?
But let's face it, summer flings are not about commitment, they're about sweaty quickies and splashing around in the shallow end. If that was the case then by now you've broken up and gone your separate ways. But if you were one of the few who are seeking true depth in this relationship, then you are going to have to gear up and get ready because things are about to get interesting as we head into the fall and winter. Here are some how to surf tips for all you entry-level and/or cold water surfers.
(NOTE: I've beaten this whole relationship metaphor to death so let's move on so you can learn how to surf in the cold.)
WETSUITS
A wetsuit is a must in order to learn how to surf in the fall and winter. With the advancements of wetsuit technology today there is no logical reason to skip the cold water months. If you are surfing only in the warmer seasons, you are totally blowing it. By skipping fall and winter you are missing those fun, often empty waves and the opportunity for continued progress. However, if there is any area in your surfing that you need to pay close attention to it's definitely your wetsuit purchase, especially when it comes to cold water wetsuits.
NOTE TO FIRST TIME WETSUIT BUYERS: Fit is everything. Don't paddle out with a wetsuit without properly trying it on first. Don't buy a suit because it's a cool color or a buy a name brand that your friends love because wetties fit differently for everyone. Keep in mind that every wetsuit manufacturer cuts their suits differently so you may have to try a few out to find which suit fits your body correctly. The key thing is to try it on before you buy it and go with someone who knows how to fit a wetsuit properly.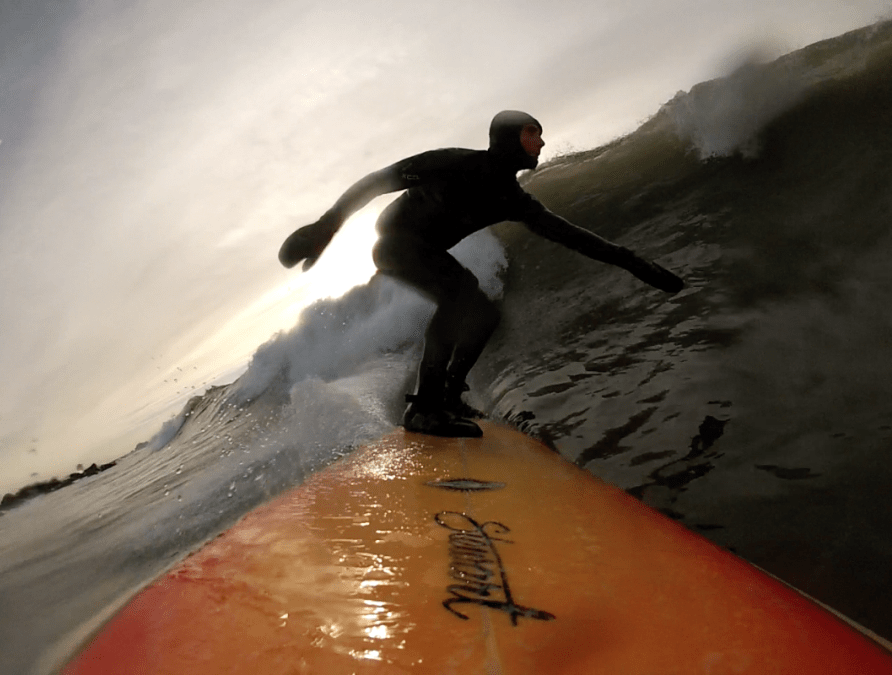 When you learn how to surf, one of the first things you need to know is that, whichever wetsuit you choose, it has to fit perfectly (or pretty damn close). If your wetsuit is even slightly too big the water is going to flush in and chill you to the bone. If the suit is too tight then it will restrict the blood flow and, you guessed it, you'll get cold faster. When you try on the suit it should look like it was painted on you yet still be reasonably comfortable. Touch your toes then reach for the sky. If it binds, has big gaps or is unreasonably restrictive then it's the wrong suit for your body type, so try another.
Furthermore when it comes to your wetsuit, you can't put a price tag on warmth and comfort, especially when the temperatures drop below 50 degrees, so don't skimp. Spend the extra money on the all the extras. If you live in a region where it gets especially cold, wear a wetsuit with an integrated hood. You'll also notice that the price tag for cold water suits jump in price by about 100 bucks. This is because you are paying for the best seam for restricting water flow: the blind stitch. The blind stitch is a labor intensive stitch that is designed to minimize water from flowing in and out of the suit, thus keeping you warm. It's also very tough. When combined with new seam seal technology it's simply the warmest, most durable combination available. Because it is so labor-intensive to build these suits, they cost more. But wetsuit technology is our friend and I speak from experience. In the dead of winter here in the Northeast, to get to the ocean we often have to walk through waist deep snow then paddle out into 36 degree water, but because I've invested in the best wetsuit and accessories available, I stay really warm and surprisingly comfortable.
SURFBOARDS
You will need to consider that your summer board just isn't going to cut it when the waves get bigger. Sure, your wide-tailed summer board will be fine on the smaller days but you will need to consider a surfboard that will fit the more powerful and hollow waves that come with fall and winter.
IMPORTANT NOTE: If this is your first cold water season do NOT buy a super short, ultra rockered high performance short board. While they look cool under your arm this board will be useless if you can't paddle it. You need to consider the fact that you will soon be wearing 12-14 pounds of wetsuit and accessories and this will inhibit your ability to paddle. I suggest a board slightly shorter with a slightly narrower outline than what you are currently riding with slightly more rocker in the nose and tail.  For this I suggest working with a local shaper so you discuss the details of floatation, rocker and foil. This is surprisingly easy and boards cost about as much as buying off the rack. If you don't know a local shaper, ask around. Every good surf town has several and these guys (and girls) know your local surf conditions better than anyone and their surfboards are designed for the waves you want to ride.
FITNESS
If you are going to the gym to get six pack abs and not in the gym preparing for winter then you won't be in shape for the added size and power of the waves plus the added weight and restriction of your wetsuit. These variables will add some challenge to your surfing but I suggest not bulking up with weights but focus on basic body weight exercises like pushups and core work. I also suggest swimming as well as plyometrics and yoga. Consult a personal trainer for details, preferably one who surfs (or you can email me at prosurfcoaches@gmail.com for a great basic but fun surf fitness workout).
I hope that these 'learn how to surf' tips have helped. Now that fall is here and the waves have been firing, I'll see you out there.
See you in the water,
Coach Robbie Nelson