Posts by Robbie Nelson
A September of hurricane swell to remember? Absolutely. Harvey. Irma. Jose. Lee. Maria. I will never forget these names. Why? Because after 46...
Pro Tips for Staying Warm While Winter Surfing Whenever I post a winter surfing photo on social media the responses are usually "You're crazy!" or "It's too cold!" Some of these...
Winter is Coming: Learn How to Surf for the Fall/Winter When you learn how to surf, it's like meeting someone for the first time. It was probably love at first sight so you threw yourself...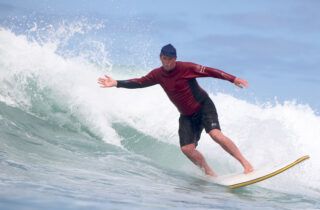 Why (and How) I Fell In Love With Surf Coaching I discovered surfing in the fall of 1977 in New Jersey. My father was an avid striped bass fisherman and would take me along, teaching me about...