How to Shop Plus-Size Wetsuits
Elizabeth Werdnik May 12th, 2021 Posted In: Articles
Have you taken up a fun water sport activity like surfing, diving, or swimming? Have you had trouble finding a wetsuit for your body with standard wetsuit sizes? If so, you can learn more about how to shop for plus-size wetsuits in this article!
Learning about the options for plus size and tall wetsuits will help you stay warm and protected in the water, and make you feel more comfortable and confident.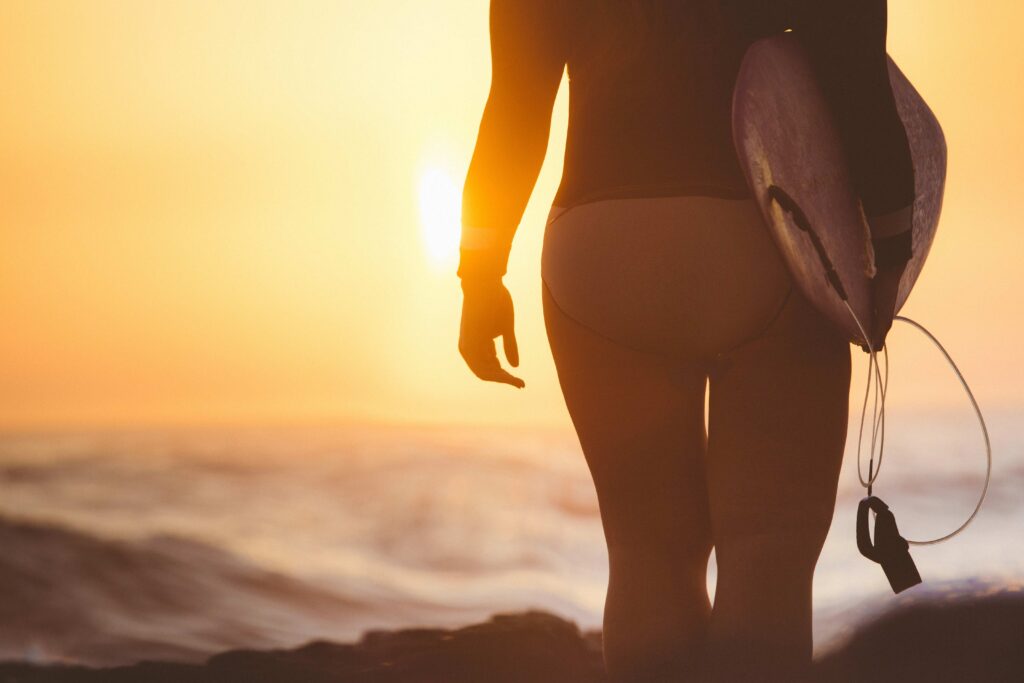 1. Shop For Comfort
It is important to prioritize your comfort in searching for your perfect wetsuit by considering the material construction, thickness, and sizing of your wetsuit. You need to feel comfortable and confident heading into the water!
Material
First of all, the search for comfort starts with material options. Wetsuits are made from different grades of neoprene. 100% stretch wetsuits are made from super flexible, buttery neoprene, which optimizes range of motion and feel on the skin. Investing in a 100% stretch wetsuit can be preferable to standard stretch neoprene wetsuits, especially in larger sizes where you might want a little more flexibility to fit you perfectly in all the right places.
Thickness
Next, you need to consider the thickness. You should select a wetsuit thickness based on your average water temperatures and the watersport activity you are participating in. You can search for wetsuits at Wetsuit Wearhouse with filters for both temperature and watersport in the left-hand filter bar! This makes finding a wetsuit specific to your needs easy. With modern technology, thicker wetsuits are just as stretchy as lightweight wetsuits. For your safety and comfort, only choose your wetsuit thickness based on the water temps you will be wearing it in!
Sizing
Furthermore, sizing is crucial in finding a comfortable wetsuit for all body types. A wetsuit should fit like a second skin. Every wetsuit on Wetsuit Wearhouse has a product-specific size chart. It's important to note that your wetsuit size might not correspond to other garment sizes you wear. Take your chest, waist, weight, and height measurements and compare these to the size chart to find your perfect fit!
2. Invest In Your Own Wetsuit
Many watersport athletes make the mistake of renting wetsuits from the service they're using for their activity.
For example, someone that's SCUBA diving might rent from the SCUBA shop that's taking them out to the water. Or they might rent from the service that they're renting a kayak from, etc.
Limited Rental Sizes
There are two issues with this. First, as a plus-size man or woman, a rental service with a limited range might not have the best wetsuits, or sizes that fit you comfortably. Wearing a wetsuit that is too small or too big in the wrong places will not only have you feeling uncomfortable and self-conscious, but can also be dangerous. A wetsuit is designed to fit snugly to your body to function in keeping you warm and protected.
Rental Costs
Many rental services offer older budget wetsuits in limited sizes, which can be fine if you need a wetsuit casually once or twice. If you partake in your water activity frequently enough though, you'll end up spending way too much of your hobby budget on wetsuit rentals over an extended period of time. If you love your watersport, invest in your own gear! This will save you money (and the stress of finding a well-fitting rental!) over time.
Hygiene
Wetsuits are usually worn with as little underneath them as possible to ensure a snug fit. That means that rental wetsuits inevitably come in contact with skin oils and bacteria regularly. Most reputable rental companies will thoroughly clean any rental wetsuits inside and out. For long-term use and peace of mind having your own wetsuit to wear (and pee in, yes, lots of us do) will ultimately feel more hygienic. Don't forget to wash your own wetsuit with fresh water after every wear still! You can learn more about keeping your wetsuit clean to maintain its lifetime here.
Buying your own plus-size wetsuit solves all of these issues! You can invest in a high-quality wetsuit in your ideal size, and get to enjoy it whenever you please. This improves comfort, performance, and hygiene. While they might cost a bit more upfront, the price is totally justified over time.
3. Find Your Style
Oh, you didn't think that wetsuits had any fashion to them? Think again! There are two primary types of wetsuit styles that you can choose from and can come in many different colors and patterns to match your uniqueness.
Fullsuits
Fullsuit wetsuits, as their name would imply, usually cover your entire body for the most warmth and protection. Their arm sleeves extend all the way down to your wrists, and the legs extend down to your ankles. These come in varying thicknesses for different water temperatures and activities. There are also sleeveless fullsuits available for a better range of motion in the arms!
Shortys
On the other hand, shorty wetsuits feature a cropped leg and come in full-length and short sleeve options. Shortys are great to ward off chill in warmer waters by keeping your core warm and offering a little extra protection.
The options don't stop there! With so many style variations, colors, and patterns to choose from, you're bound to find a wetsuit that serves your watersport of choice and makes you feel stylish in the water.
4. Consider Knee Pads
One of the most underrated features of a wetsuit are knee pads. Most people don't give them any thought, but they can be a gamechanger for your watersport!
For plus-size men and women especially, kneeling can take a toll on your joints, especially if you're sitting that way for an extended period of time.
Look for a wetsuit with technical kneepads if you're shopping for a fullsuit for your watersport. They're a tremendous feature for durability, protection, and comfort for everyone!
5. Accessorize!
If you're new to the world of wetsuits, it's important to note that a wetsuit doesn't have to be the only form of watersport apparel you invest in! You might want to consider accessories such as boots, gloves, and hoods, or separates like wetsuit tops, and bottoms.
Completing your gear with a hood, gloves, or boots can boost your performance in colder waters, keeping you warm longer. These accessories come in different designs and thicknesses as well, so that you can build a kit that serves you best!
Separates like wetsuit tops come in short and long styles, with pullover or front zipper designs. With loads of color and pattern options out there (including reversible looks!) these can be worn on top of swimwear/boardshorts for a little extra warmth and protection in warm water. Another option is to pair a top with wetsuit shorts or full-leg wetsuit pants. Matching a wetsuit top and bottom can be a great way to "create" your own full coverage solution too, especially if your sizing varies on the top and bottom.
6. Custom Wetsuits
If you are having trouble finding a wetsuit on the ready-to-shop market for your unique body, you might not have known that there are also options to order a custom wetsuit to your exact measurements!
If you are an avid watersport athlete, your comfort and warmth are well worth investing in, and you know that your purchase will fit you perfectly! Though Wetsuit Wearhouse currently does not offer custom wetsuits, there are several providers offering custom wetsuit services online!
7. Representation Matters
Many wetsuit brands are getting better about offering inclusive sizing. We believe that everyone should have access to gear that gets them outside, and keeps them warm and protected in the water! Size diversity and representation in the wetsuit industry are important. At Wetsuit Wearhouse, we are always working to improve our selection of plus and tall sizing for men and women by partnering with brands that have a wide range of sizes.
Shop Plus-Size Wetsuits Today!
Now that you've read some tips on how to shop for plus-size wetsuits, you're ready to browse for your wetsuit! You can shop our selection of plus-size and tall wetsuits and accessories here. With the filters in the left-hand bar, you can specify your size, water temps, and the watersport you're partaking in, along with colorways, styles, and more!
Looking for some extra inspiration? Check out this awesome interview with surfer girl Kanoa Greene with Vol Up 2 on developing confidence as a surfer in the watersport community. We want to see you out there in a wetsuit having a great time!
For more inquiries, or help with finding your perfect fit, reach out to us via our contact us page and we will be happy to assist you!