How to Dress like a Surfer
Elizabeth Werdnik November 22nd, 2023 Posted In: How-To Tags: Surfing
All the Details on How to Dress like a Surfer
The surfer has been a style icon for decades. Beachy waves, golden tans, lingo, shorts and sandals. For those of us who love the vibe, but weren't raised on a board, this post highlights the fundamentals of the look, head to toe. Dressing like a surfer involves more than just wearing what the surfers wear, it's the whole shebang. Here's how to dress like a surfer:
Surfer hair
Oh, the hair. The perfectly disheveled, wind swept, sand-tousled beach waves,
The long, shaggy cuts are stereotypically classic, but that doesn't have to mean looking sloppy. Matthew Mcconaughey's pushed back waves could make anyone forget that he's from Uvalde, Texas, and not Huntington Beach. Gents – don't be afraid to grow your hair out a little!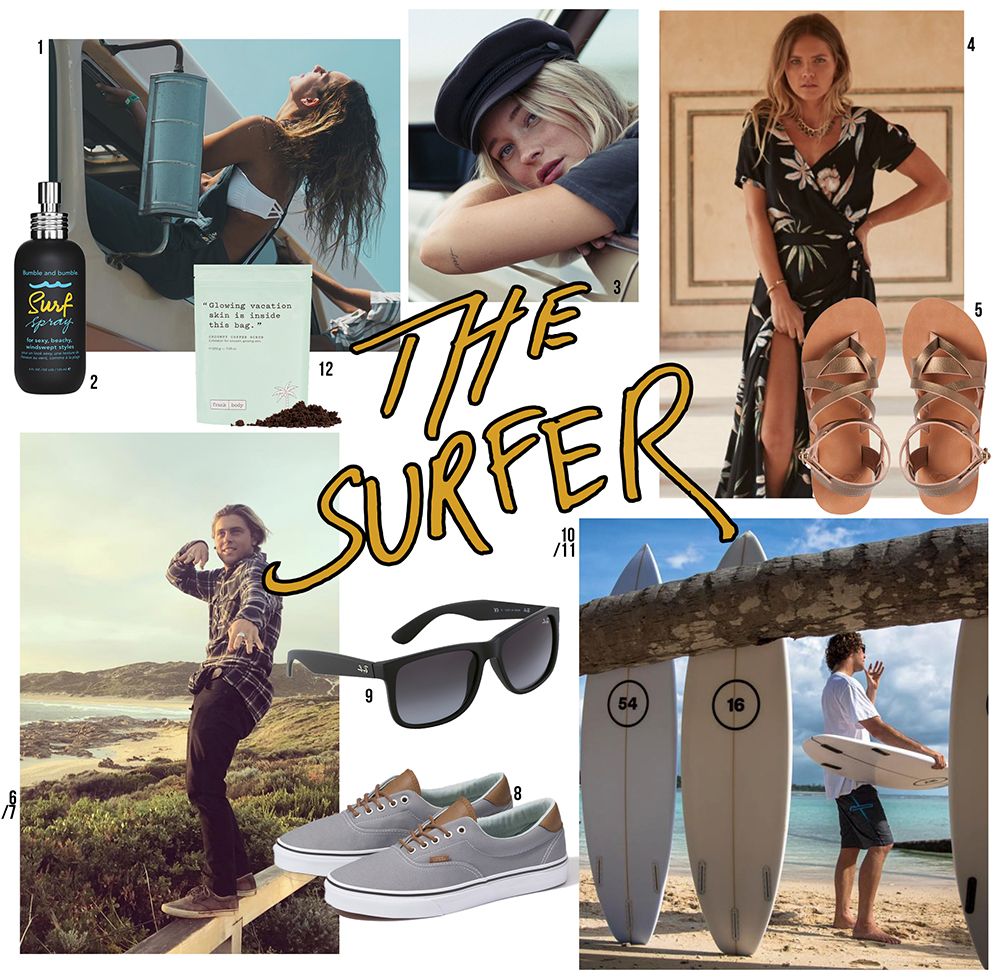 Ladies, ditto on the advice. Let it grow and let it go. Those fresh-out-the-ocean waves may come naturally to the watersport regulars, but can be recreated inland quite easily with a sea salt texturizing spray. Allure voted Ceremonia's Guava Beach Waves as best overall for 2023 ($20). But there are options for every kind of hair type and every kind of budget. You can find recommendations here. Spray, scrunch, air dry, channel Honolua Blomfield, repeat.
Skin
The pros swear by two beauty rules. SPF and moisturizer. We don't need to remind you that exposure to the sun's harmful rays is dangerous, so say it with me, "healthy skin is sexy skin". Always wear sunscreen, even if you're not spending all day in the water. And if you are spending the day in the water, opt to wear a rashguard which will protect you from harmful UV rays! Look for SPF protection in makeup and face moisturizers so you can't forget to apply!
The ocean is a giant natural spa treatment; salt and sand exfoliate, cleanse, and disinfect the skin. Although there's nothing quite like real sea water, you can make your own dupe at home! Just boil two cups of distilled water, add 1 teaspoon of sea salt, allow the mixture to cool, store at room temp, and use occasionally. Use a gentle exfoliant a few times a week for a similar effect, and don't forget to moisturize your skin regularly for a healthy glow. That goes for you, too, dudes. Surfers know that dry skin sucks. (Side note: Self tanner has come a long way from the Cheeto-stain days and is an awesome option for safe, year-round color.)
Body
Surfing is as fun as it is tough – there's a reason why surfers look as fit as they do! Find a hobby that gets you outdoors and keeps you active. Stand up paddle boarding, hiking, yoga, skateboarding – there's so many activities that inspire the active lifestyle of a surfer, even if you don't live by the sea.
Dress like a surfer
Surfers have a laid-back beachy style that is casual, comfortable, effortless, and yet cool. There's no one perfect way to dress like a surfer, but when it comes down to the basics, they typically wear any combination of the following: graphic/logo tees, flannel, board shorts, chinos, worn-in denim, flowy dresses, caps or beanies, sandals or flip-flops, and sunglasses. Imagine a wardrobe you could pull a solid outfit out of with your eyes closed, and feel free to do so. Brands like O'Neill, Quiksilver, Roxy, Rip Curl and Billabong all have clothing collections for women and men inspired around the surfer style. Well-loved sneakers, think Converse and Vans, are also MVPs for an adventurous lifestyle.
You can also check out your local vintage stores for rad printed tees, retro jeans, and free-spirit dresses. It's a great place to score funky jewelry and accessories too (hello seashell necklaces and woven friendship bracelets)!
Attitude
'Surfer' is much more than a fashion statement – it's a personality and a lifestyle. Everyone could use a little of the cliché laid-back, ocean-loving, free-spirit, beach-bum as inspiration, but really anyone can be a surfer. You could even follow surfing pros on Instagram for ultimate insight into the world of surf and everything that goes with it (they all really do seem to be laid-back, ocean-loving, free-spirit, beach-bums).
It's been proven that "being in touch with nature" can reduce stress, lift your mood, and boost feelings of happiness and well-being. No wonder they all seem so carefree!
And for those who are really serious: Wetsuit like a surfer
Surfers spend a good part of their lives in wetsuits. They provide warmth and protection from the elements and make the sport more enjoyable year-round.
Editor's Note:
This article was originally published in 2018 and has since been reviewed and updated to provide the most up-to-date information.