What Are The Best SCUBA Diving Destinations?
Candace Reno April 17th, 2023 Posted In: Articles Tags: SCUBA
Top SCUBA Diving Locations & Destinations
The excitement begins once you become SCUBA certified. The search us on to find the best places to go SCUBA diving. So what are the best SCUBA diving destinations? This is a very tough question as this could change based on what type of diving you want to do. However, we can make a list on what is thought of as the 10 best places to SCUBA dive in the world.
1) Raja Ampat Islands
In Raja Ampat Islands, Cape Kri is one of the most popular dive sites. This place is known to have the largest number of fish species counted on a single dive! Head for a stunning drift dive in Komodo at Batu Bolong. Here, reef sharks, turtles, and tuna can be seen along with the beautiful, colorful coral as you sweep around in the current.
2) Galapagos Islands, Ecuador
The Galapagos Islands aren't just famous for Darwin's finches, they are also one of the most spectacular SCUBA diving destinations in the world. The famous rock arch, Darwin's Arch, unfortunately collapsed in 2021. However, the underwater world remains as diverse as it has always been! In particular, Wolf and Darwin Islands are often rated as the best for shark diving. Hammerheads and silky sharks will often grace your presence in these waters. Whale sharks can also be seen here. Other animal highlights in the Galapagos Islands are the marine iguanas, penguins, and sunfish.
3) Tuamotu Archipelago, French Polynesia
Another place that is considered the best place to dive with sharks is the French Polynesia, particularly in Tumakohua Pass. Here you will again find hammerhead sharks, but also lemon and white-tip sharks amidst an underwater valley. Moorea and Rangiroa also offer spectacular diving in the French Polynesia where humpback whales can be encountered.
4) Palau, Micronesia
Palau is rich in WWII history and full of underwater life. It is considered a shark sanctuary. The German Channel and Ulong Channels are popular dive sites for the manta ray encounters and best drift diving in the world, respectively. Blue Corner Wall offers steep drop-offs and a variety of fish. Barracuda and many types of reef sharks can be spotted here. Off the wall you can potentially see eagle rays, manta rays, turtles, tuna, and sometimes whale sharks.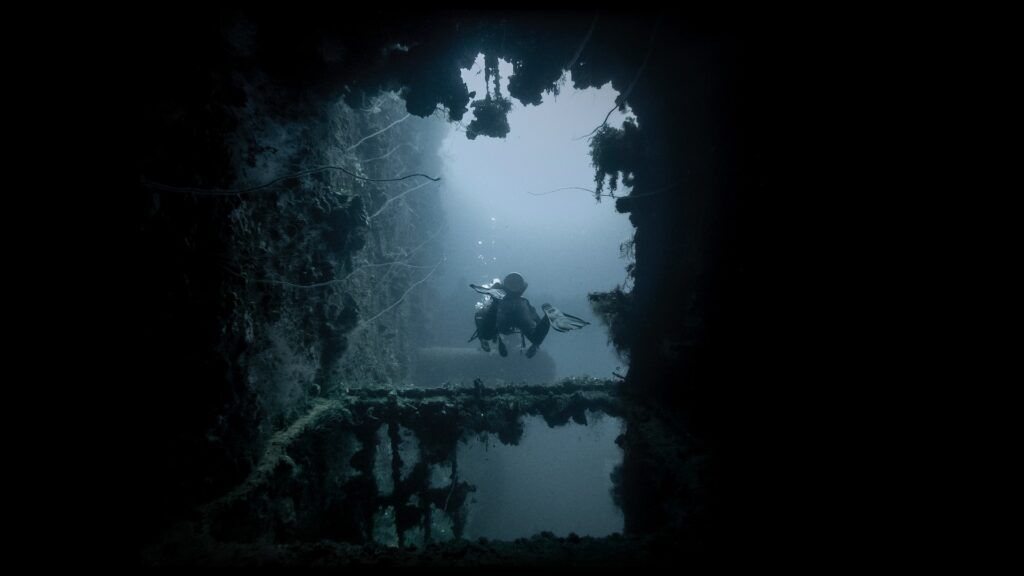 5) Indonesia
Indonesia offers many beautiful SCUBA diving destinations. One in particular is Anemone City in Alor. This is one of the places in the world that you can see clownfish swim in and out of their anemone homes. The huge field of anemones is also a sight to see!
6) Thailand
Some of the biggest diversity in sea life is located in Thailand. Huge pelagic fish can be seen at various dive sites. Perhaps the most popular dive site in Thailand is Richelieu Rock in the Andaman Sea. Manta rays, whale sharks and tuna can be seen here along with the many other species of fish with the backdrop of beautiful coral.
7) Maldives
The Maldives are best known for their overwater bungalows. The numerous atolls that make up the Maldives are best seen via live-aboard boat to make the best of your trip. Manta rays, whale sharks, and reef sharks are some of the highlights to see. Perhaps some of the best diving in the Maldives is located in North Male Atoll, Baa Atoll, Hanifaru Bay, and Ari Atoll.
8) Cocos Islands, Costa Rica
Reachable by liveaboard boat diving, Cocos Islands is a nice remote place for tranquility. At Cocos Islands in Costa Rica, hammerhead diving is popular.
9) Socorro Island, Mexico
Out in the Pacific Ocean, for divers willing to take the long (~24 hours) trek from mainland Mexico to Socorro, spectacular diving awaits! With strong currents and colder water intended for those thicker SCUBA Diving wetsuits or even dry suits, this dive site can be challenging but also the reason for the variety of animals experienced. Numbers of sharks can be seen here. From silky, hammerheads, Galapagos and Oceanic whitetip sharks, you are sure to see several.
Additionally, dolphins and whale sharks (seasonally) can be seen along with schools of jack and barracuda. You can even watch manta rays glide over the reefs and twist and turn over the bubbles created by SCUBA divers.
10) Philippines 
As part of the Coral Triangle, the Philippines top off our list of the best SCUBA diving destinations in the world. The Tubbataha Reef Marine Park near Palawan in the Philippines offers the most turtles, rays, and sharks that you could ever imagine seeing in one place. Malapascua, a teeny tiny little island, is world-famous for potential sightings of thresher sharks.
Our Top Diving Destination Spots
It's hard to pick just 10 top SCUBA diving destinations in the world. There were several other locations that could easily make this list. These include Fiji, the Great Barrier Reef, and the Red Sea. To answer 'what is the best SCUBA diving destination in the world?', you should really start with what animals you want to see. 
It seems some of the best SCUBA diving destinations are centered around sharks. Even if you don't care to see sharks or are maybe scared to dive with them, they are a sign of a healthy reef. It makes sense that some of the best SCUBA diving destinations in the world would be places where you can see many sharks!