Lessons Learned: Open Water Swimming in a Surfing Wetsuit
Lauren Collison October 12th, 2017 Posted In: Articles Tags: Triathlon
Don't Be Fooled, a Triathlon Wetsuit Is the Best Suit for Open Water Swimming
Kirk Trach signed up for his first-ever triathlon on a whim. A friend was interested in training for a race, and Kirk, who had previously run the Richmond Marathon, was looking to branch out into some exercise that wouldn't pound so hard on his soon-to-be middle-aged joints.
"I figured, what the hell? I've always been a strong swimmer and I love to bike, so it seemed like a good fit since I was bored with running all the time."
Kirk and his partner had about three months to get in shape for the Wallis Sands Triathlon in Rye, New Hampshire. The race included a 1/3-mile swim in the Atlantic Ocean, a 14.5-mile bike ride along the New Hampshire Seacoast and a 5K run that ended at Odiorne State Park.
Since the race is held annually in mid-September in water temperatures of just 55 to 60 degrees, a wetsuit was a must. "When I went to try them on, I figured I'd get the lightest one I could, probably with short sleeves. It just didn't seem like I'd get that cold in September. Luckily, the staff told me about the other benefits of a good wetsuit, like the speed you get from being so streamlined."
Because a local surf shop was the only place nearby to try wetsuits on in person, Kirk ended up choosing a full-coverage XCEL wetsuit with an offset zipper with the idea that it would make transitions easier. He quickly learned, however, that the XCEL wetsuit was designed with surfers in mind, not triathletes. In particular, there was an extra Velcro tab closure at the neck to keep the zipper in place. While this is convenient for surfers who don't need a quick escape from their wetsuits, it got in the way of stripping down to hop on a bike.
After a few tries on the beach, Kirk knew he needed something different. "Every time I opened it, it would close over the zipper again. In the rush of transition, I wanted everything to be easy, so I trimmed off the tab with scissors."
Despite the modification, he admits that if he had it to over again, he would have chosen a wetsuit for triathlon swimming so he could fly through transitions and get a bit more buoyancy. Still, having a wetsuit was a definite training advantage. "I'm glad I went with a medium weight that would allow me to train during the shoulder seasons. The extra insulation let me get out there to swim in the ocean instead of the pool all through September."
And it's a good thing that he got the extra open water practice under his belt. The day before the triathlon, a wicked storm blew through the area and was barely off shore by the morning of the race. When the swimmers arrive on the scene and crossed the street to the shoreline, they were greeted with a daunting sight: 10-foot waves were crashing onto the beach, roiling and foaming.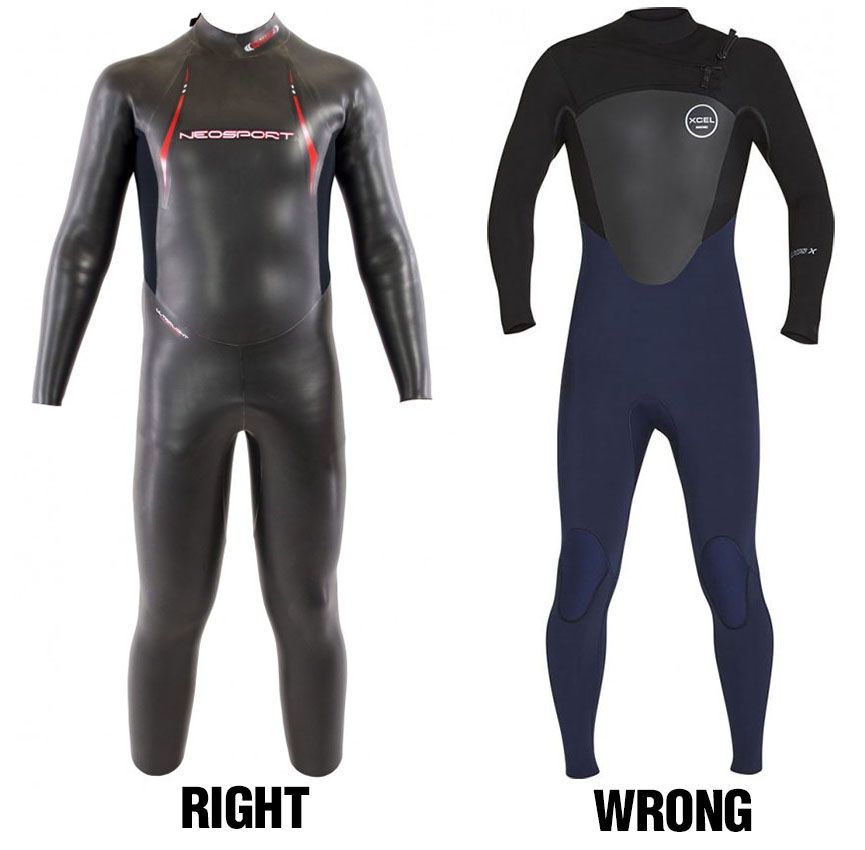 "When guys would go down to the water for a warmup lap, that's when you could really see the scale of the waves. Huge! We watched the first waves of swimmers get in, and guys could barely even get out into the water."
Did the wetsuit make a difference?
"Oh, yeah. If nothing else, I felt a lot more confident heading into such rough, cold water fully covered. I made pretty good time on the swim too — especially for such a crazy-hard first attempt."
Beware though, not all wetsuits are created equal. Don't get surfing wetsuits and triathlon wetsuits confused with one another. Although they both are made of neoprene, they were built for completely different reasons. Surfing suits were created for performance in the waves and feature wetsuit technology such as smoothskin chest and back panels for wind resistance and grip, poly fleece for warmth and quick drying properties, different styles of zippers (back, chest or zip-free), and durable kneepads.
Meanwhile, a wetsuit for triathlon swimming has all the performance benefits and features strictly for swimming/tri use. Unlike surfing suits, triathlon suits are made with glideskin on the entire suit which helps with drag and speed in the water. Triathlon suits also have back zippers specifically designed to make getting in and out of the suit super easy and fast which is a must when you're transitioning out of the water. They're also anti-chafing and have buoyancy panels to improve swimming position.