Wetsuit Shopping for Beginners: What to Look For When You Buy a Wetsuit
Chris Moleskie October 3rd, 2018 Posted In: Articles
What to Look For When You Buy a Wetsuit
Buying the right wetsuit is the difference between staying warm in the water and having a useless rubber suit that hangs in your closet. Wetsuits are an investment of both money and your time. They are fickle things that require you to anticipate when, where, why, and how you intend to wear it before you leave the shop.
Everyone makes a dozen decisions on every wetsuit purchase whether they're new to the water or they rarely step foot on dry land. We took all those decisions and put them into a tried-and-tested process to help you narrow down your options rather than trying to compare two different wetsuits. Follow our brief guide, and you'll be ready to buy a wetsuit in less than ten minutes.
5 Essential Decisions to Make When You Buy a Wetsuit
Wetsuits are similar to other adventure gear – like sleeping bags – because every facet of their construction informs whether you can wear it comfortably. As soon as you're waist deep in the water, you'll feel the difference between materials, thickness, size, and construction.
To help you find the wetsuit best suited to your next adventure, we put all these decisions through a model to help you whittle down your choices and walk away with something wearable.
1. Choose Your Wetsuit Type
Wetsuits come in different shapes and sizes because they protect you from cold water, but they also protect you from the sun, harnesses, and other irritating things you encounter in water sports. Four types of wetsuits dominate the market:
Full wetsuits best suit cold water athletes because they tend to run hot and limit mobility in warm climates.
Long John/Jane suits, shortys, and springsuits are for warmer climates. The Long John/Jane suits are one piece suits with long legs and often short- or no-sleeve torsos. Shortys and springsuits are one piece suits with shorter legs and long, short, or no-sleeve tops.
Wetsuit separates are another popular option. These are often used either with board shorts or underneath full bodysuits in icy water.
2. Narrow It Down by Season
Wetsuits come in several thicknesses measured in millimeters. The thickness of the wetsuit determines what temperatures it accommodates. In general, wetsuits come in five thicknesses:
0.5 – 1 mm
2 mm
3 mm
4 mm
5+ mm
Anything over 5mm tends to be a specialty product that you don't need unless you're swimming in Siberia. Each thickness matches a water temperature range. Here's what that looks like in Fahrenheit:
> 72 degrees – no wetsuit required
65 -75 degrees – 0.5mm to 2/1mm
62-68 degrees – 2mm to 3/2mm
58-63 degrees – 3/2mm to 4/3mm
52-58 degrees – 4/3mm to 5/4/3mm
32-52 degrees – 5/4mm to 5/4/3mm
< 42 degrees – 6/5mm to 6/5/4mm
Remember that water temps aren't everything. An icy wind, air temperature, your sensitivity, and your activity all make a difference. Add any one of the above to cold water temperatures, and you might consider choosing the extra thickness.
3. Dial-In On the Size
Every wetsuit brand features both a different fit and a different size chart to make things difficult. Follow each brand's size guide according to your height and weight to start to hone in on the perfect size. How should a wetsuit fit?
Getting into any dry wetsuit is a challenge. Once you get zipped in, ask your self these questions:
Is there extra room in your knees, shoulders, or torso?
Is lifting your head over your arms and moving your shoulders difficult?
Is it difficult to crouch down and move your arms?
If the answer to one or more of these questions is yes, then your wetsuit is not a good fit.
Keep in mind that thicker wetsuits are naturally more restrictive, so you'll sacrifice some movement regardless. If you can't perform essential functions like shoulder rotation or squats, it's just too small.
4. Decide on the Right Construction (Seams and Zippers)
Your wetsuit will feature a closed-cell neoprene rubber construction, but some feature a neoprene and butyl rubber mix. Things get slightly more complicated when you start looking at wetsuit stitching, seals and zippers.
Seams
Summer suits and shorties come with flatlock stitching that's suitable for warm water activities. The stitching lies flat on the suit and generally lets in more water than cold water suits, but it won't matter because the water and likely the air temperature are warmer.
From thickness 3/2mm on, you'll want a sealed wetsuit. A sealed suit features a layer of glue followed by blind stitching to create extra protection from the cold water. 5/4/3mm and thicker demands a wetsuit that's both sealed and taped. A sealed suit is both blind-stitched and glued to create a more watertight suit. If you're glue, stitched, and 100 percent taped, you have seams that are so reinforced that no water gets through.
Zippers
You'll find three common zippers:
Back zips
Chest zips
Zipperless
Zipperless suits tend to be lightweight suits that sacrifice warmth for added mobility. You'll find swimming suits or high performance surfing wetsuits tend to be zipperless.
Back zip and front zip suits do what they say on the tin. Back zippers are ironically easier to get into and out of because they feature a long tie at the end of the zip. Many models tend to let more water in than the chest sips.
A chest zip suit means you'll need to get your head and neck through the neckline before sipping up the suit. These are more waterproof and, again, ironically are less likely to leave a rash on your neck.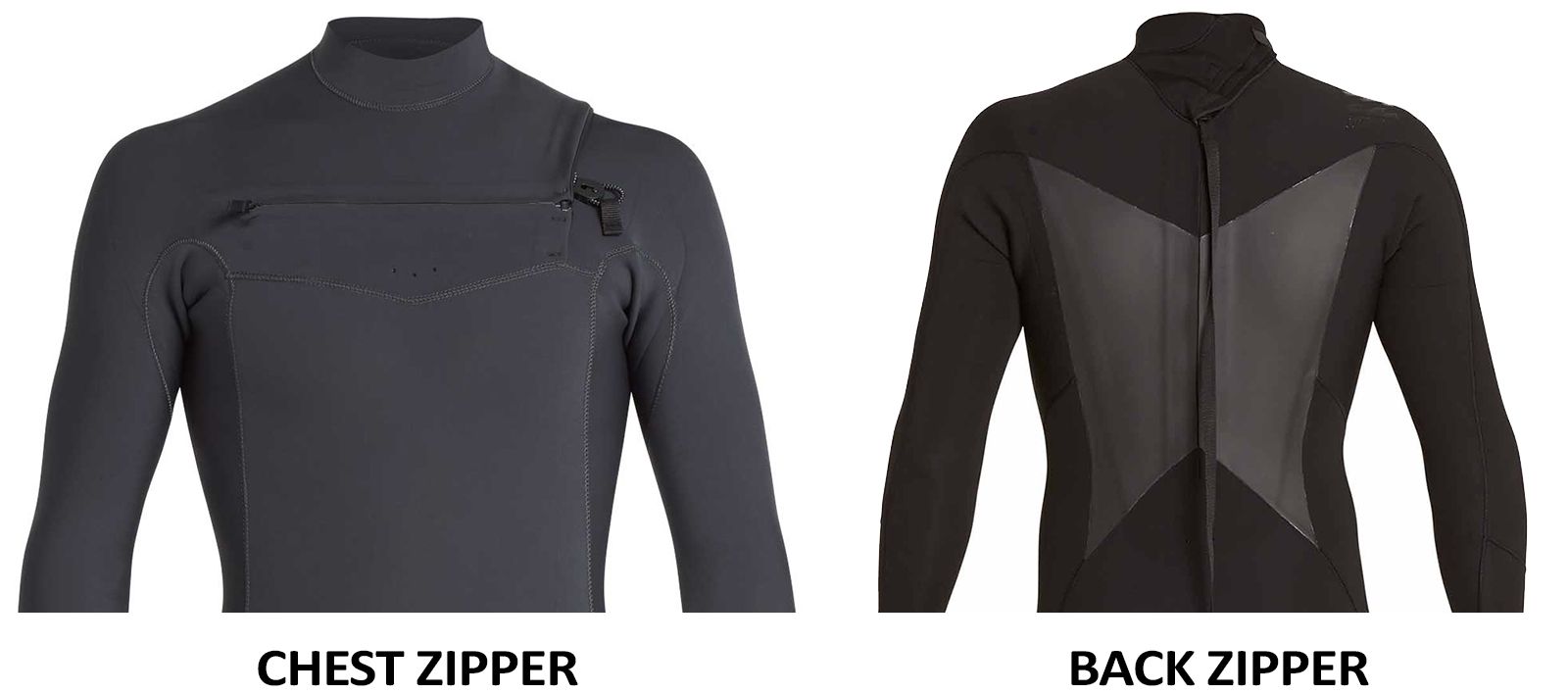 5. Buy Accessories
If you're buying a 4/3 mm and thicker, you'll find the water also begs for wetsuit accessories including boots, gloves, and a hood. Trust us – a good pair of gloves and boots make all the difference.
You're Ready to Click 'Buy'
Are you ready to buy a wetsuit? Our process makes it simple. By narrowing it down by type, season, size, and material, you'll find one that will keep you warm and dry in almost any conditions. Do you still have questions about choosing a wetsuit? Live chat with one of our wetsuit experts to get personalized help.