Wetsuit Reviews: Making Online Shopping Easier!
Paige Troiano January 23rd, 2017 Posted In: How-To
Real Wetsuit Reviews, Just For You!
Tired of biased wetsuit reviews? Put your trust in us at Wetsuit Wearhouse, the largest wetsuit retailer! We list thousands of unbiased wetsuit reviews from our real customers on a regular basis! With over 25,000 wetsuits and accessories in stock, all year round, we're bound to have the wetsuit review that you're looking for!
Find A Review!
Simply select the product that catches your eye, scroll below and utilize the tabs at hand! Along with size charts and detailed descriptions, each product features real customer reviews readily available for your shopping convenience! As shown below, select the "Reviews" tab to see the featured ratings and reviews from real customers based on their real experience.
Choosing the best wetsuit or gear to invest in can be easy with the right tools! At Wetsuit Wearhouse, you can screen your products of choice, before you buy, by reading reviews on sizing, fit, features, style and more! It's important to remember that wetsuits perform differently under varying circumstances. Factors vary from water temperatures, chosen sport and so much more. So, read our reviews to find out how our suits perform for your fellow water-sports enthusiasts!
Write Reviews on Your Favorite Products!
Have these reviews helped you find a wetsuit in the past? You can try writing a review, too! Look up your favorite products, scroll down past it's starred rating and select "write a review" to share your feedback on the products you've tried! Your feedback is greatly appreciated by us, and all other online shoppers!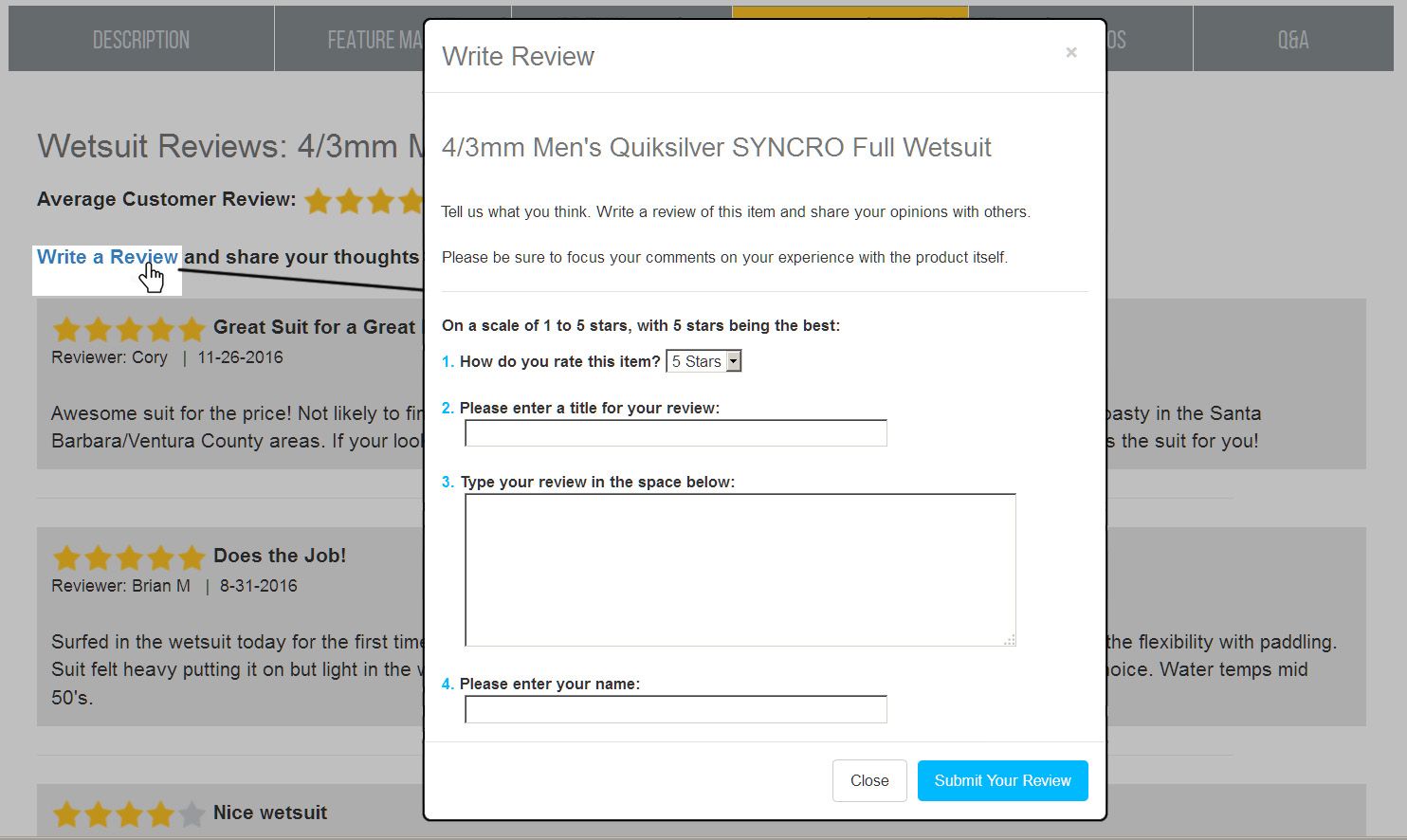 We're Here to Help!
Can't find the product review you're looking for? No worries! Remember that you can utilize our customer service tools that are available just for you! Reach us when you need us via online live chat, by e-mail or by phone 866.906.7848!