The Triathlon Gear You'll Need Before Race Day
Elizabeth Werdnik July 13th, 2021 Posted In: Articles Tags: Triathlon
Trying to complete three different sports in one event is a great challenge for any athlete. Triathlon does just this by having athletes swim, then bike, and then run in one race.
As you begin to explore this exciting multi-sport world, the thought of triathlon gear may overwhelm you. Triathletes look like they're just out there crushing it, but they come to their events with giant backpacks full of gear and towing bicycles and equipment.
What exactly does a beginner triathlete need to start in this sport? Here is your basic triathlon gear guide to begin your multi-sport journey.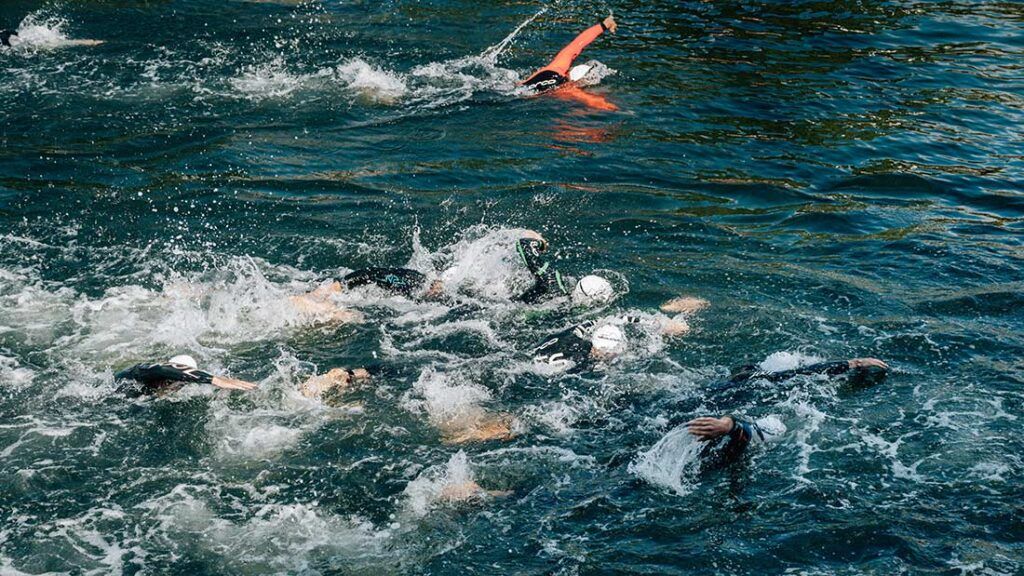 Wetsuit
If you're planning an open-water swim, you will need likely need a wetsuit specifically for training and racing. A triathlon-specific wetsuit will have more flexibility in the arms and legs so you can swim freely, and usually features a smoothskin exterior for minimum drag in the water. A triathlon wetsuit will keep you much warmer than a regular swimsuit, which is especially crucial when you're swimming in colder open waters for a prolonged period of time.
Make sure you purchase a wetsuit specifically for your gender since each is anatomically designed for either a woman's or man's body!
Women's triathlon wetsuits come in a great variety of styles. These triathlon wetsuits come in several different lengths. A triathlon fullsuit extends all the way down to the ankles and wrists. A jane is typically sleeveless above the shoulder for added mobility, with long legs down to the ankle. Lastly, a short jane features sleeveless arms and is cut above the knee in a short length.
You should pick your triathlon wetsuit length based on the water temperatures you will be swimming in!
Men's triathlon wetsuits come in the same styles but are anatomically built for men's bodies to maximize range of motion. You can even find big and tall-sized wetsuits such as these at Wetsuit Wearhouse to accommodate larger athletes!
When you purchase your wetsuit, make sure to pick up a stick of lubricant meant specifically to avoid chafing in your wetsuit. You might want to consider lubricant around your neck, wrists, and ankles when you swim. This allows you to swim more comfortably, and also allows for easier entry and exit during transition stages.
Warmth
Depending on where and when you plan to train and compete, it may be worthwhile to invest in additional triathlon gear to keep you warm in colder waters. There are so many accessories on the market, but some of the staples are a neoprene cap to keep your head warm, gloves for your hands, and swim socks for your feet. You can browse some triathlon gear here to get an idea of what's out there to help you perform at your best, in all environments!
Gear
All swimmers in triathlons need a brightly colored swim cap so swim rescue crews can see them. A basic latex cap will work well, but be aware that they can also unexpectedly tear. You should always carry a backup swim cap in your triathlon gear bag. Most sanctioned races hand out swim caps with their race bib, but it's a good idea to always bring an extra cap with you should you need one.
Another piece of gear you should definitely invest in are a pair of swimming goggles. These protect your eyes in the water and allow you to comfortably see where you are headed! There are many options out there, but since most people do not enjoy leaky goggles (especially not if you're racing!), make this a piece of gear that you invest in.
Race Belt
A race belt is an inexpensive but handy little gadget for triathlon. It is an elastic belt to which you affix your race bib. When you run out of the water and slide out of your wetsuit, you need only clip on your race belt instead of fighting with a bib and pins in your transition area. This cuts down on time, and frustration!
Tri Kit or Swimsuit
If you're just starting with triathlons, or you're racing in warm waters, you can compete in a swimsuit for simplicity. There are many short john/jane style one-pieces that can work great for certain athletes.
If you're committing to more than just one triathlon, you may also want to look into purchasing a triathlon kit. A kit will consist of a spandex shirt and spandex shorts, specifically made for triathlon racing. The shorts will have a small pad in them to make the bike portion more comfortable, and the shirt will often have special pockets for any nutrition you want to stow for long rides and runs.
Bicycle
If you're just starting in triathlon, testing the waters to see if you like it, you can use just about any functioning bicycle like a decent road bike. It will give you the basic speed you need to stay competitive and simply enjoy your event.
If you do not own a road bike, ask around. Look for local triathlon clubs and see if anyone has a bike they'd be willing to lend you just for the event. Most triathlon clubs want their sport to grow, and often members have extra bicycles that they used when they started their sport.
If you're planning on doing a long triathlon, where you will be sitting on your bicycle for hours and probably competing to win, it's worth the money to invest in a tri-specific bike.
Bicycles made specifically for triathlon are different than road bicycles. They have the same skinny tires, but their frames are designed for maximum efficiency and comfort.
A quality triathlon bike, also known as a time-trial bike, will usually start upward of a thousand dollars. Look for a bicycle with a carbon frame and a triathlon-specific cockpit. The cockpit will have aero bars so you can lean over the handlebars and rest your frame on the bike frame as you pedal.
Go to a bike shop that has a qualified bike fitter on staff. The bike fitter will put the tri bike on a trainer and have you take a stationary spin on it. Then the fitter will tweak the bike to fit your specific body, giving you the most comfortable ride possible and the best opportunity of finishing your long bike ride ready to run.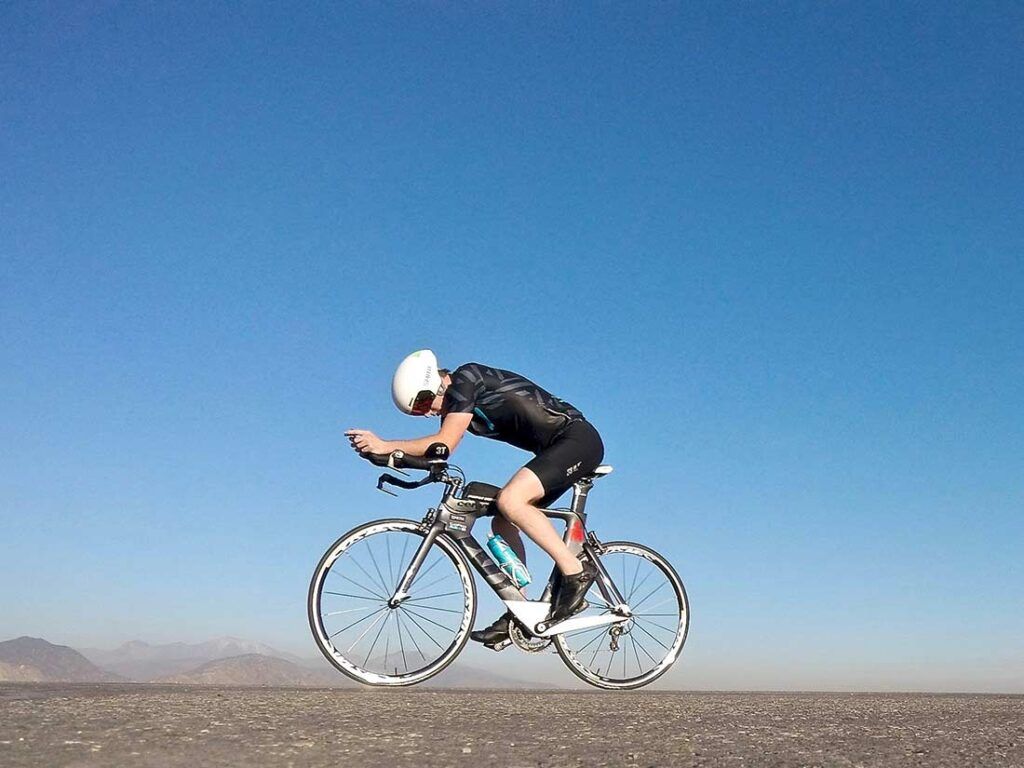 Bike Helmet & Sunglasses
Safety is a priority! All triathlons require you to wear a bike helmet. You need just a basic helmet that fits securely on your head.
If you're planning on going long and want to gain a little speed, look into an aero helmet. Engineers designed aero helmets to cut through the wind you create when you bike and make cycling easier.
Cycling sunglasses are awesome in protecting your eyes and vision from wind, debris, and sun while you're traveling fast on your bike.
There are endless options to meet every style for cycling helmets and glasses! Stand out in the race with your own unique combination.
Running Shoes and Biking Shoes
You will need a quality pair of running shoes to complete the run portion of the race. Do not test out a new pair on race day. Rather, go to a local run store and have them analyze your gait and foot strike during your training period.
Running specialists can tell you what kind of running shoes will work best for you. Having a great fitting pair of shoes will allow you to perform your best and protect you from injury.
If you're planning on doing many triathlons, you can also consider looking into purchasing biking shoes and clip-in pedals for your bike. You can generate more power when your shoes are attached to your pedals because you can pull up on the pedals as well as push them down.
Try Out Multi-Sports With Triathlon Gear
Beginner triathlon gear is simpler than you'd imagine because once you have your basic kit, you can always expand the quality and variety of pieces you have over time. Your standard triathlon gear list should include a wetsuit or a shortjohn swimsuit, a bicycle, a helmet, and running shoes at the very least.
Once you fall in love with the sport, you can begin to invest in other pieces in your kit to cater to your needs and budget.
Ready to shop for your first triathlon? Check out our selection of performance tri-gear here. With a variety of stock year-round, there's something for every athlete whether you are a beginner or an expert. You can also contact us directly to have one of our wetsuit experts help you find your perfect suit!

Most importantly? Have fun triathling!