Hypoallergenic Wetsuits & Neoprene Sensitivities
Lauren Collison February 4th, 2019 Posted In: Articles
Patagonia's Hypoallergenic Wetsuits Could Ease Neoprene Allergies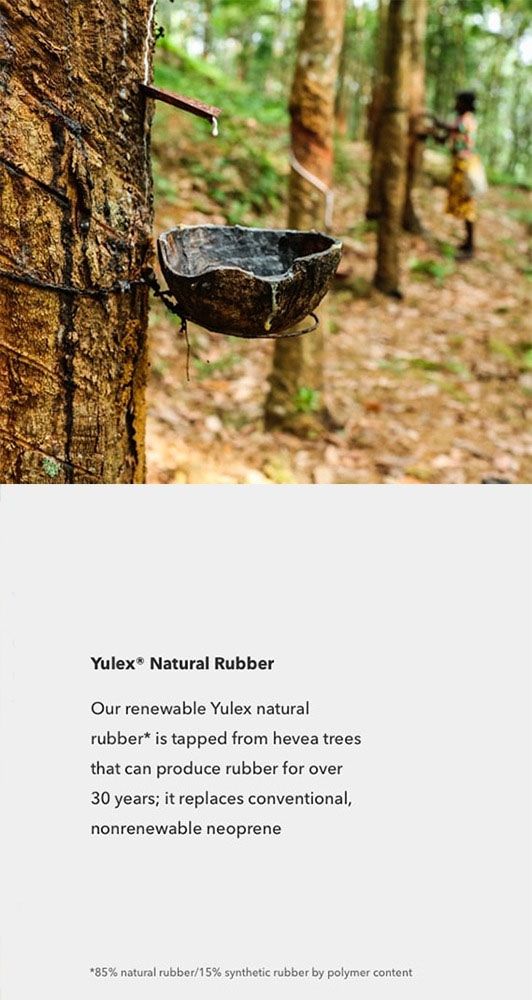 Hypoallergenic wetsuits are starting to make a splash (pun very much intended) in the wetsuit industry for those who suffer from neoprene or skin allergies. Neoprene and/or the glues and solvents used to make a wetsuit are typically to blame for allergic reactions. So, what is it about neoprene that causes an allergic reaction on the skin? Patagonia received a lot of inquiries about their neoprene-free line of wetsuits (called Yulex) from customers who deal with skin allergies. Consumers want to know if Patagonia wetsuits are hypoallergenic and if the suits are a better option for people with neoprene sensitivities.
While it is extremely difficult to create a product that is skin-friendly for all (because not all allergies are created equal), Patagonia worked some serious magic to create a line of neoprene allergy-free, sustainable, fair trade and potentially hypoallergenic wetsuits.
What exactly is a neoprene sensitivity and how do you know if you have one? Neoprene may cause dermatological issues such as allergic contact dermatitis or even miliaria rubra. Symptoms of a neoprene allergy could include itching, swelling, a red spot or spots on the skin, rash, or even a tingling or burning sensation. These allergic reactions are typically the body's response to "the accelerants used to manufacture the man-made rubber, specifically thiourea compounds and mercaptobenzothiazole (MBT)".**
Miliaria rubra typically causes the tingling/burning sensation or raised red spots while contact dermatitis causes itching and/or swelling. Not only can the neoprene material itself cause an allergic reaction, the compounds and materials in the glue could also trigger a reaction for some. Patagonia took these factors into consideration when creating Yulex wetsuits.
Here are some main points about Patagonia's line of Yulex wetsuits:
The main material is a composite of foamed rubber. It's laminated on both sides with synthetic fabrics treated with water repellent finishes.
The fabrics are bluesign approved, which is a certification that covers many aspects about chemical and environmental safety and prohibits skin sensitizing chemicals.
The foamed rubber in between the fabrics is made of natural rubber plus additives including accelerators used for rubber production which can be skin-sensitizing.
There is an adhesive used to laminate the fabrics to the foamed rubber which may contain sensitizing chemicals.
There is also glue and liquid seam used on seams which can contain sensitizing chemicals.
Zippers, trims, edges and tight openings can cause physical irritation.
We focus on minimizing what is known to be skin sensitizing. But it is possible for an individual to have skin sensitivity to anything, which cannot be predicted.
We advise that you should ask your doctor for a list of chemical names that you need to avoid if you have skin allergies or sensitive skin.
Here is a list of rubber and adhesive content that Patagonia wetsuits DO NOT contain:
p-tert-butylphenol formaldehyde resin
zinc diethyldithiocarbamate
dipentamethylenethiuram disulfide
thiuram
mercaptobenzothiazole
mercapto mix
Methylisothiazolinone: used as an antibacterial agent
However, Patagonia's hypoallergenic wetsuits DO contain (the rubber and adhesive content):
Natural rubber is processed to remove over 99% of the total protein which can be allergenic
Accelerators to speed up the process of vulcanization (needed for natural rubber as well as synthetic rubber)
Diethyl thiourea in small amounts in the solvent glue for seams
Neoprene allergies are common – don't think you're alone. And while everyone's skin reacts differently to chemicals or materials, Patagonia's Yulex line of wetsuits may be a great hypoallergenic wetsuit option for those who deal with neoprene sensitivities/allergies!
If you're not ready to purchase a Yulex wetsuit, contact our customer service team either via live chat, email (service@wetsuitwearhouse.com) or call 866-906-7848 and they can set you up with a Yulex material wetsuit sample. You can test this sample around your arm or leg to see if a reaction occurs!
** Reference: Stern, E. B., Callinan, N., Hank, M., Lewis, E. J., Schousboe, J. T., & Ytterberg, S. R. (1998). Neoprene splinting: Dermatological issues. Retrieved from https://www.ncbi.nlm.nih.gov/pubmed/9693703