The First Fair-Trade Line of Wetsuits: Patagonia Yulex Fall 2018 Wetsuits
Lauren Collison September 12th, 2018 Posted In: Articles
Patagonia Yulex Fall 2018 Wetsuits
Back in the fall of 2016, Patagonia launched the first ever neoprene-free wetsuit line called Yulex. Fast forward to the fall of 2018 and Patagonia has just launched the first line of Fair-Trade Certified wetsuits in the industry. By being Fair-Trade Certified, Patagonia is ensuring that their products are not only made in a safer and healthier factory environment, they are also ensuring that the premium they pay goes directly to the factory workers who can use that money at their discretion. This is something that's not very common in the industry.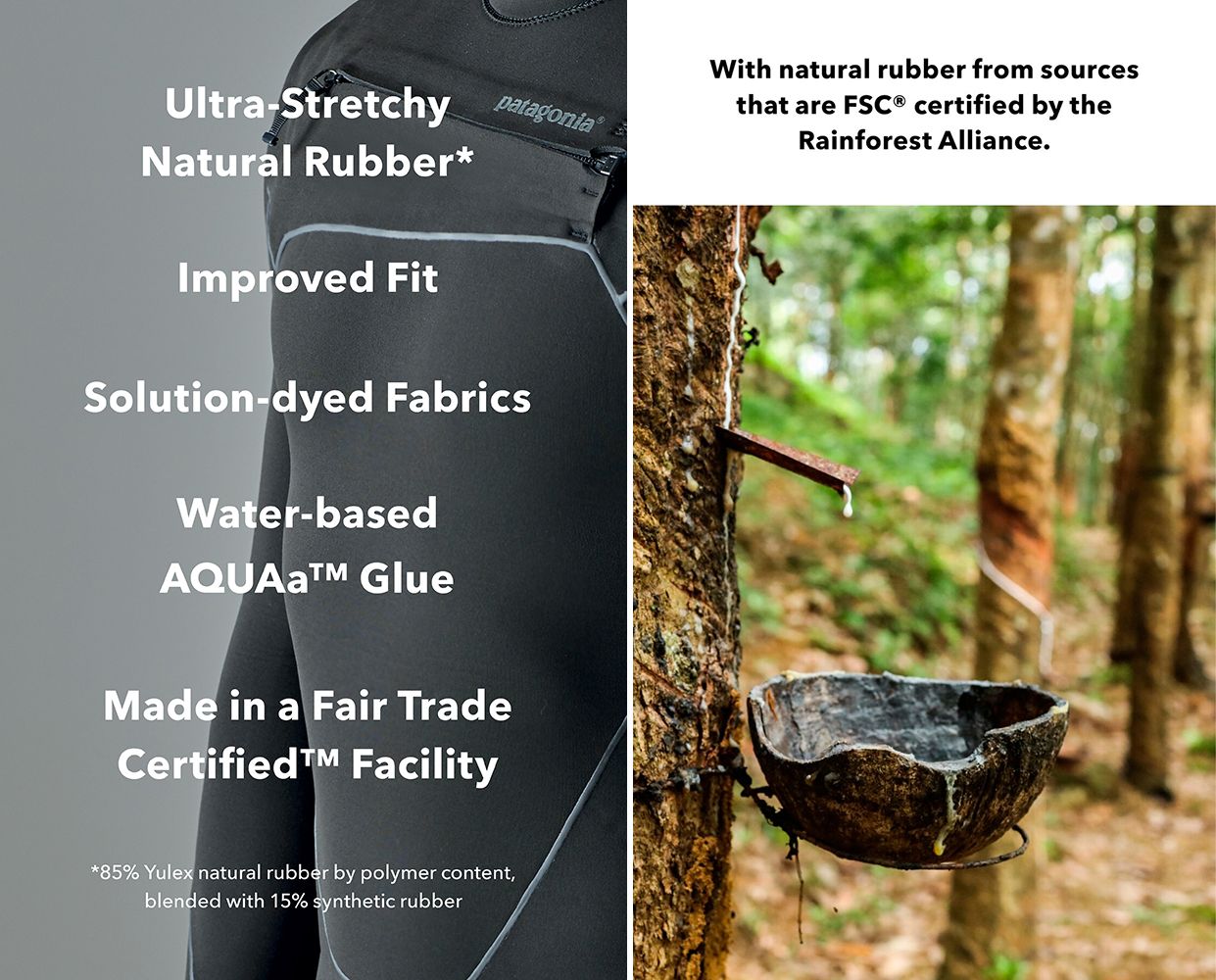 Along with being Fair-Trade Certified, these Patagonia Yulex Fall 2018 wetsuits are not only neoprene-free but now have more performance features. They're stretchier, lighter, comfortable and more functional than ever before. The Yulex material is an ultra-stretchy natural rubber sourced from trees which helps to reduce negative impacts on the environment. That natural rubber material is what makes these suits neoprene-free. This line of Patagonia Yulex fall 2018 wetsuits is made with 85% Yulex natural rubber and 15% synthetic rubber. Also, the internal linings are solution-dyed and made with 100% recycled polyester.
Now, as far as features go, here's a quick breakdown on what's new and improved in this fall '18 lineup:
Stretch. Patagonia made their wetsuit foam 20% stretchier than previous Yulex suits making this suit super flexible.
Lightweight. The reformulated Yulex material is 5% lighter than last season making it softer and quick drying.
Fit. The improved fit features less restriction and a better feel and fit on an array of body types.
Ironclad/Lifetime Warranty. This isn't a new and improved feature but it's definitely worth mentioning. Patagonia's Ironclad guarantee means that if your wetsuit isn't what you expected or is damaged, Patagonia will take it back for repair, replacement or refund.
Comfort. Soft to the touch, an updated weave in the linings, and a lower profile internal taping all create a comfortable and smoother wetsuit experience.
Performance, sustainability and neoprene-free materials all combine to create one heck of a new wetsuit line from Patagonia and we're stoked to be offering these new suits this season. Think you have a neoprene allergy? Contact us via email (service@wetsuitwearhouse.com) or call 866-906-7848 to find out how you can try a sample of Yulex!
*Update: Patagonia recently updated and added more information concerning the ingredients their neoprene-free line of Yulex wetsuits do and do not contain. Check out our latest in-depth post explaining why Yulex wetsuits are a hypoallergenic wetsuit option and how these suits could help those with neoprene sensitivities!