How to Put on Wetsuit Boots
Lauren Collison February 4th, 2019 Posted In: How-To
How to Put on Wetsuit Boots
You just finished putting on your wetsuit (which is a task itself) and now it's time to put on your wetsuit boots. But what if you don't know how to put on wetsuit boots? Don't worry, you're not alone in this. No one said dressing in neoprene from head to toe would be easy. That's why we're here to help! Wetsuit boots can be a little tricky to master. With these simple steps though, you'll be good to go!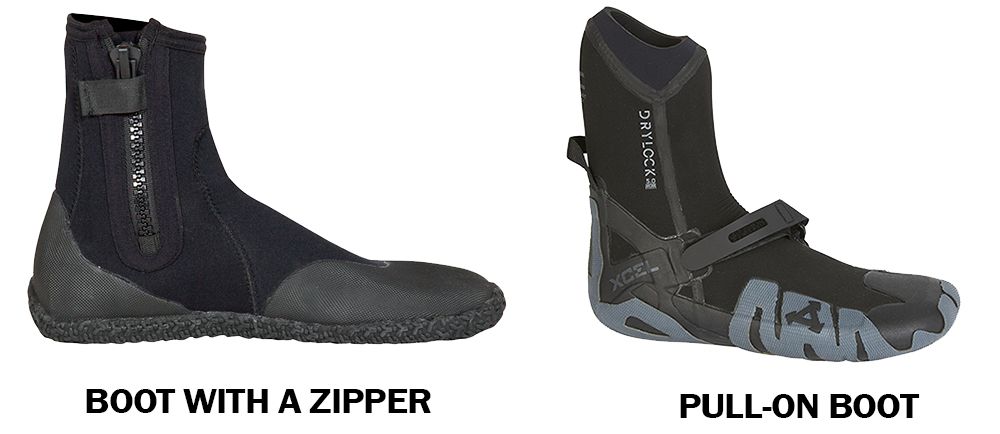 Wetsuit boots are fantastic for virtually any water sport. Most general purpose and surfing wetsuit boots are pull-on. Meanwhile, a lot of dive wetsuit boots have a zipper on the side of the boot. Regardless of the water sport, zip wetsuit boots are your best bet if you just can't master the art of putting on neoprene boots.
Wetsuit boots provide warmth and grip and protect your feet from getting scratched. Whether you need a nice 3mm neoprene boot for warm to cool waters or you're braving those super-cold-might-get-hypothermia waters and need a toasty 7mm wetsuit boot, there are tons of options. You can get split toe or even round toe – it's up to your personal preference!
Before we dive into the steps we have just one piece of quick advice – you can always use a plastic bag to help you slide in the boot OR use a pair of wetsuit socks to glide right in (our favorite method).
Here are the steps on how to put on wetsuit boots:
Whether you're using a plastic bag, wetsuit socks or bare feet, the first thing to do is to fold the top part of the bootie down.
Once the cuff is folded, insert as much of your foot into the boot as possible. With that being said, you'll have to make sure your fingernails or too much pressure don't rip the neoprene.
This is where you'll have to almost just shimmy your foot in bit by bit to get the entire foot in the boot. Using a wetsuit sock, like a pair of WETSOX Original Wetsuit Socks, will actually make this process much faster and smoother compared to a bare foot.
Once your entire foot is in the boot, gently pull the cuff completely up.
If there's a heel loop, use that to adjust your heel and feet. And if there's an ankle strap, adjust that to your own comfort.
Adjust if needed to get a completely comfortable fit.
If wearing a wetsuit, pull the leg portion of the wetsuit over the tops of the boots!
Fold top part down.
Insert your foot.
Use heel loop to adjust.
And there you have it – now you are a master at putting your wetsuit booties on! Remember that booties should fit snug not loose – just a little tighter than sneakers. And wetsuit socks can be your best friend at getting in and out of the boots! Need a visual of this process? Check out the video below!