What to Wear Under a Rashguard?
Paige Troiano February 2nd, 2017 Posted In: Articles
What to Wear Under a Rashguard
Heading out for a day on the water and wondering what the perfect combination of appropriate attire may be? Often times, rashguards can be worn under wetsuits, but what do you wear under a rashguard? Can you rock a rashguard solo? Great questions! Let us be your rashgard-ians!
First Things First:
I'm sure you've seen toddlers at your local pool sporting a rashguard a time or two, but they actually come in various styles and fits for folks of all ages! With variety in sleeve-length, rashguards also come in both loose and regular fit options. A tighter fitting option will work best to accommodate you while you're surfing or doing something similar in motion and activity. When you're working to paddle out, catch waves and do it all over again, the less slack the better (not to mention the protection against board rash)! A loose fitting rashguard might be more practical for the days spent floating or hanging out between the beach and the boardwalk. Regardless of the style or fit, rashguards will always work to protect you against harmful UV Rays and abrasion.
Rashguards For the Girls:
Ladies, until now you may have wondered 'do you wear a bathing suit under a rashguard?' We weren't exactly given a handbook on these things, but my answer is YES! Rashguards are the perfect accessory to your favorite bathing-suit! Everyone's preference will differ slightly, however, most of us gals prefer to wear a bathing-suit top under a rashguard! Whether you opt for a short-sleeve rashguard or a long-sleeve rashguard, they do grant coverage, though they can be quite thin and quite sheer, especially when wet. Don't worry, rashguards are actually quick-drying! So, while you're having fun in the sun, your rashguard is working to protect you from harmful UV rays on top of working to dry quickly while you're out of the water! Most women notice the benefits of wearing a rashguard over a bathing suit top, keeping you comfortable and offering you more support on the days you're most active!
Rashguards For Gents:
For the guys out there, rashguards are great to wear with your favorite board shorts or swimming trunks. With multiple styles to choose from, wear your rashguard all day long with ease, both in and out of the water. For example, take O'Neill's line of 'BASIC' rashguards for men! The O'Neill BASIC short-sleeve rashguard and the long-sleeve slim fit rashguard are tight fitting for high performance activities! To satisfy your curiosity, the O'Neill BASIC slim fit falls between a loose fitting rashguard and a regular fitting rashguard. If you're still looking, you can check out even more men's rashguards to see what your options are!
Rashguards For the Groms: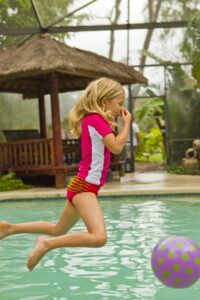 Parents love the no-fuss convenience of rashguards for the kids, especially for their cool, breathable nature on the hottest of days! We keep plenty of kid's rashguards in-stock, including some lycra springsuit options, too! The most beneficial aspect of wearing a rashguard is that they all guarantee a substantial degree of a UV Ray protecting quality, or UPF (Ultraviolet Protection Factor) rating, so no sun burned babies here! Not to mention that the composite of materials used to make rashguards results in a naturally anti-microbial property, protecting your youngsters while they enjoy their rashguard in an assortment of fun colors.
Once your day out on the water is coming to an end, simply give your rashguard a fresh water rinse and lay it out or hang it up in a cool, dry place! This will ensure the care and quality of your product!
If you're still looking around, help yourself to our Rashguard FAQ! And don't forget that we're always available by phone (866.906.SUIT), e-mail and live chat! Love your rashguard? Drop us a line in the comments below and tell us which one you're rocking!