The Health Benefits of SCUBA Diving
Candace Reno August 7th, 2022 Posted In: Articles Tags: SCUBA
The Health Benefits of SCUBA Diving
SCUBA diving is an amazing sport that allows divers to experience the underwater world. Besides the great benefits of diving that include swimming up close and personal with turtles, sharks and all sorts of other animals, travel, meeting new people, etc., SCUBA diving is also a great health benefit with some similarities to the health benefits of surfing.
As always, you should be SCUBA certified and consult with a doctor before attempting SCUBA diving to improve your health.
The Top 10 Health Benefits of SCUBA Diving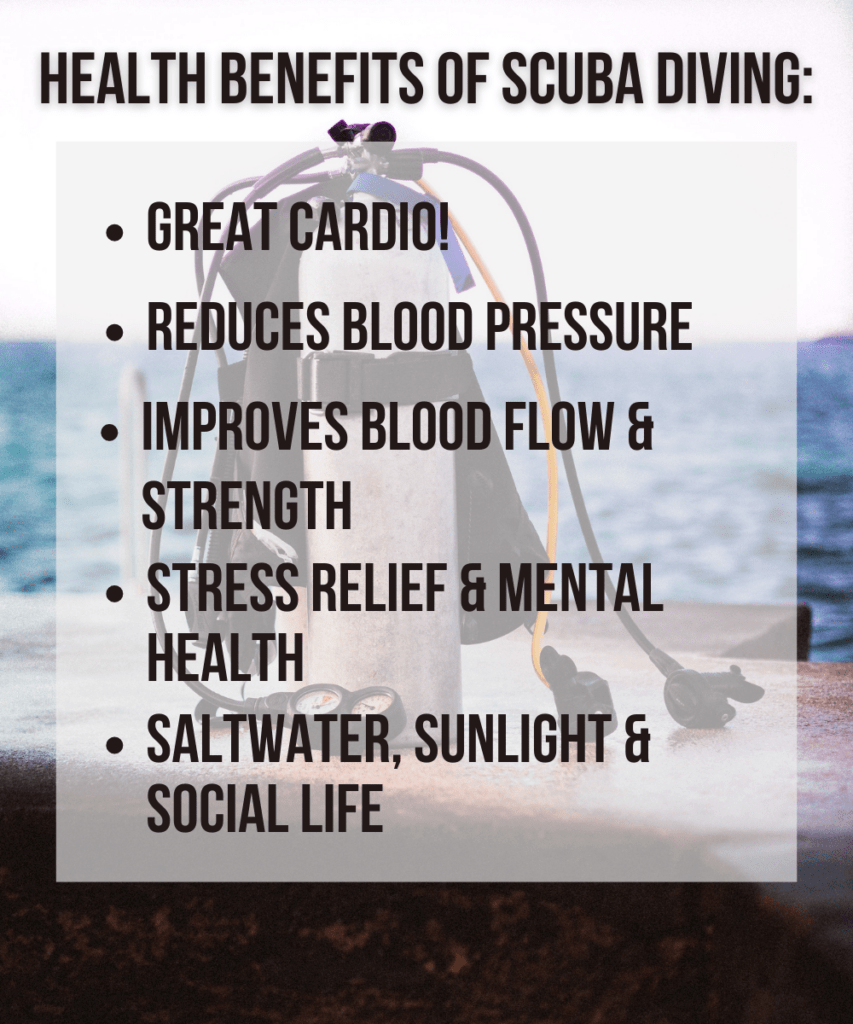 1. Cardiovascular Fitness
The biggest health benefit of SCUBA diving is cardiovascular fitness. Many divers do not realize when they sign up to become certified divers that SCUBA diving is a great cardio workout. SCUBA diving is often considered a great workout plan on its own, although keeping physically fit with other forms of exercise is also beneficial. Additionally, swimming is considered one of the best aerobic workouts. Thus, together with diving, there are great cardiovascular health benefits of SCUBA diving.
2. Reduces Blood Pressure
Another aspect of the cardiovascular system is blood pressure. SCUBA diving decreases blood pressure due to the warming of your body and the slow, deep breaths taken over almost an hours' time on any given dive.
3. Improves Blood Circulation
SCUBA diving is considered a physical sport. During any workout, even on land, the oxygen demand in your muscles increases. During SCUBA diving, this increased demand for oxygen leads to blood vessels opening to bring that oxygen to the muscles. There is debate on how much circulation is improved when diving in colder water or even just getting cold on a dive even while wearing a wetsuit with hood and gloves because cold water is known to restrict blood flow to the extremities to warm your core.
4. Increases Muscle Strength
Another great health benefit of SCUBA diving is increased muscle strength. While swimming throughout the water, each kick you make increases muscle tone. The added resistance of the water also aids in this increased muscle strength. Your core and arms can also see increased muscle strength as the physical aspect of diving usually involves the whole body. Besides being underwater, the equipment used to SCUBA dive is heavy! Lifting of tanks and other gear helps increase upper body strength.
5. Increases Emotional Well-Being
SCUBA diving is a relaxing sport. Another health benefit of SCUBA diving is the mental well-being it establishes. There is a calming nature of swimming with fish and feeling weightless, like you're flying. The underwater environment creates happiness. Studies have shown that this is due to the bright colors. Who knew looking at all those colorful fish creates happiness?
6. Stress Relief
SCUBA diving can be a big stress relief. I know when I am diving, I am not thinking about the daily stresses in my life. Also, the breathing techniques used during SCUBA diving are very similar to meditation techniques. Thus, stress relief is another health benefit of SCUBA diving.
7. Physical and Psychological Therapy
A great health benefit of SCUBA diving is that it can be used for physical and psychological therapy. People with back pain are especially grateful for this sport. Getting in the water helps you to feel weightless, thus reducing the pressure on the entire body. Furthermore, there are several programs that offer SCUBA diving as a health benefit to military veterans or people with PTSD. Studies have shown that SCUBA diving can reduce anxiety and depression in these individuals.
8. Saltwater Healing Benefits of Diving
Another interesting benefit of SCUBA diving is the effect saltwater has on your skin. Saltwater increases the skin's elasticity. Saltwater has also been shown to help heal any open sores or cuts. It might sting a little at first, but saltwater has natural healing properties.
9. Sunlight
SCUBA diving increases your sunlight exposure which is often seen as a bad thing. However, sunlight is needed for vitamin D absorption. Vitamin D is good for bone health, adding another excellent health benefit of SCUBA diving. If you are worried about too much sunlight, rash guards offer UV protection while on the surface between diving.
10. Improves Social Life
Finally, a major benefit of SCUBA diving which can tie in with a couple other benefits, such as emotional well-being, is improved social life. When you SCUBA dive, you have the chance to meet interesting people from all over the world. You also have the opportunity to travel and dive in places in the world and learn about new cultures. Some of the people you meet diving can become lifelong friends.
There are many health benefits of SCUBA diving. This is not an all-inclusive list and is certainly ordered differently for each individual person based on health status. However, SCUBA diving should not be used to cure any of these health items. Always follow your doctor's recommendations and treatment plans and get medically cleared to SCUBA dive. Once you're in the water, you'll feel great!