Do Wetsuits Keep You Dry?
Lauren Collison February 22nd, 2022 Posted In: Articles
Do Wetsuits Keep You Dry?
Believe it or not, the question of 'Do wetsuits keep you dry?' is one of our most commonly asked questions. We'll go ahead and shoot that assumption down. Contrary to popular belief, wetsuits do not keep you dry. There's a reason the word 'wet' is in the word wetsuit. Trust us though, if you thought a wetsuit keeps you dry, you're not alone.
Does a Wetsuit Keep You Dry?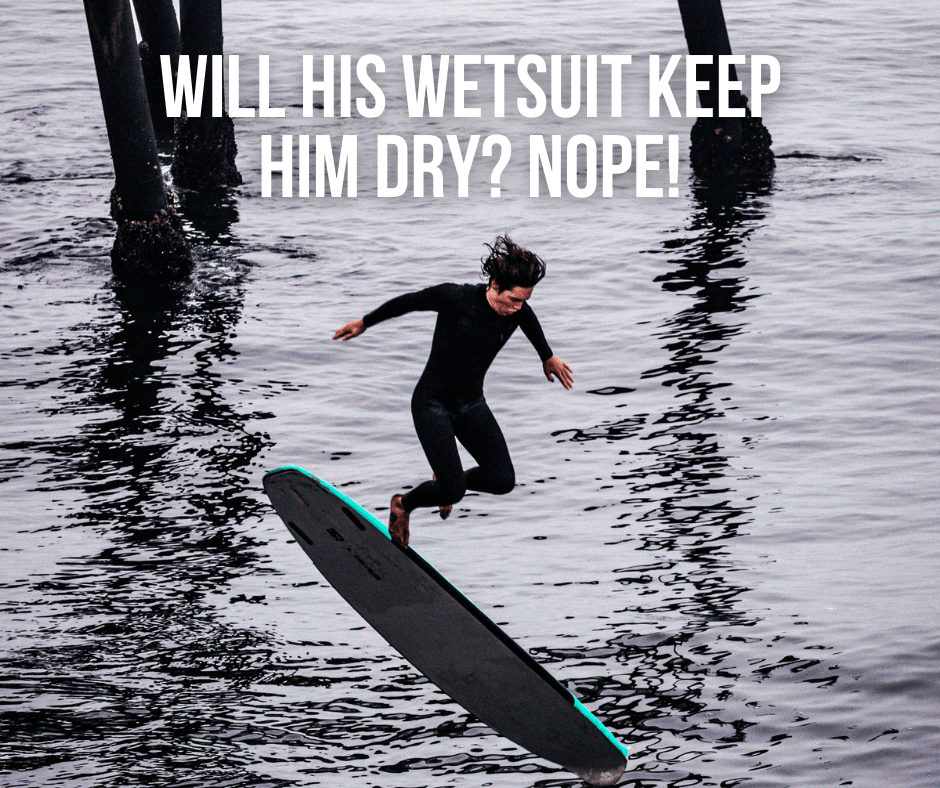 Wetsuits can help to keep you warm. However, do wetsuits keep you dry? No. A wetsuit was not designed to keep you nice and dry. Instead of getting into all of the science behind wetsuits, we will quickly touch on the technical aspect. Wetsuits work by trapping water between the skin and the wetsuit. The neoprene material in the wetsuit then heats up the water that's trapped providing you with a layer of warmth.
Will I Be Warm At Least?
Depending on the thickness of your wetsuit as well as other tech features, you will be warm in a wetsuit. That's what they were created to do. A wetsuit will help to keep you warm as well as protect you against outer elements such as rash and sunburn. However, a 5/4mm fullsuit will definitely offer more warmth compared to a 3/2mm fullsuit. No matter the thickness and the tech features (looking at you poly fleece), you will still get wet in a wetsuit.
Do Wetsuits Keep You Dry: Watersports Edition
Here's the thing – you will most certainly get wet in a wetsuit when participating in watersports where you are submerged. Think surfing and swimming. Maybe you're like 'I'm just kayaking, so will I stay dry in a wetsuit?' Yes and no. While you will most likely not be submerged in water during kayaking, there's a possibility of getting wet. Have no fear though, once that water hits your wetsuit, you'll still stay cozy even above the water! A wetsuit adds that extra layer of protection and warmth. And the water will dry fast on your wetsuit anyway.
What If I Want to Be Dry?
Since a wetsuit will not keep you dry, consider looking into a drysuit. Keep in mind though that not all drysuits will keep you 100% dry. But they work to create a watertight and dry experience. Drysuits are popularly used in water activities such as SCUBA, paddleboarding, and even kayaking. They do not work great with sports such as surfing though.
Final Thoughts
Now that we have answered the question 'do wetsuits keep you dry?', remember the purpose of a wetsuit is to keep you warm, not dry. Don't fear the water! Instead, wear a wetsuit to protect you. If you're not sure what thickness wetsuit to get, check out our wetsuit water temperature chart.
And if you have any questions regarding what wetsuit to buy, reach out to our amazing customer service team to help you choose the right one!