2021's Best Wakeboarding Wetsuits
Elizabeth Werdnik April 21st, 2021 Posted In: Articles Tags: Wake
2021's Best Wakeboarding Wetsuits
Find the best wakeboarding wetsuit to ensure your safety, comfort, and a longer wakeboarding season. When it comes to wakeboarding, you're only as good as the equipment you have, and that definitely includes your wetsuit!
So if you're in the market for the best wakeboarding wetsuit, you especially should know what features to look for and which brands to browse. There are tons of options out there, but you want to invest in one that meets most of your needs.
Check out the guide below so you can find the best wakeboarding wetsuits of 2021.
Learn the Lingo for Wakeboarding Wetsuits
In this section, we will go over a few terms you should get familiar with if this is your first time buying a wetsuit for wakeboarding.
Neoprene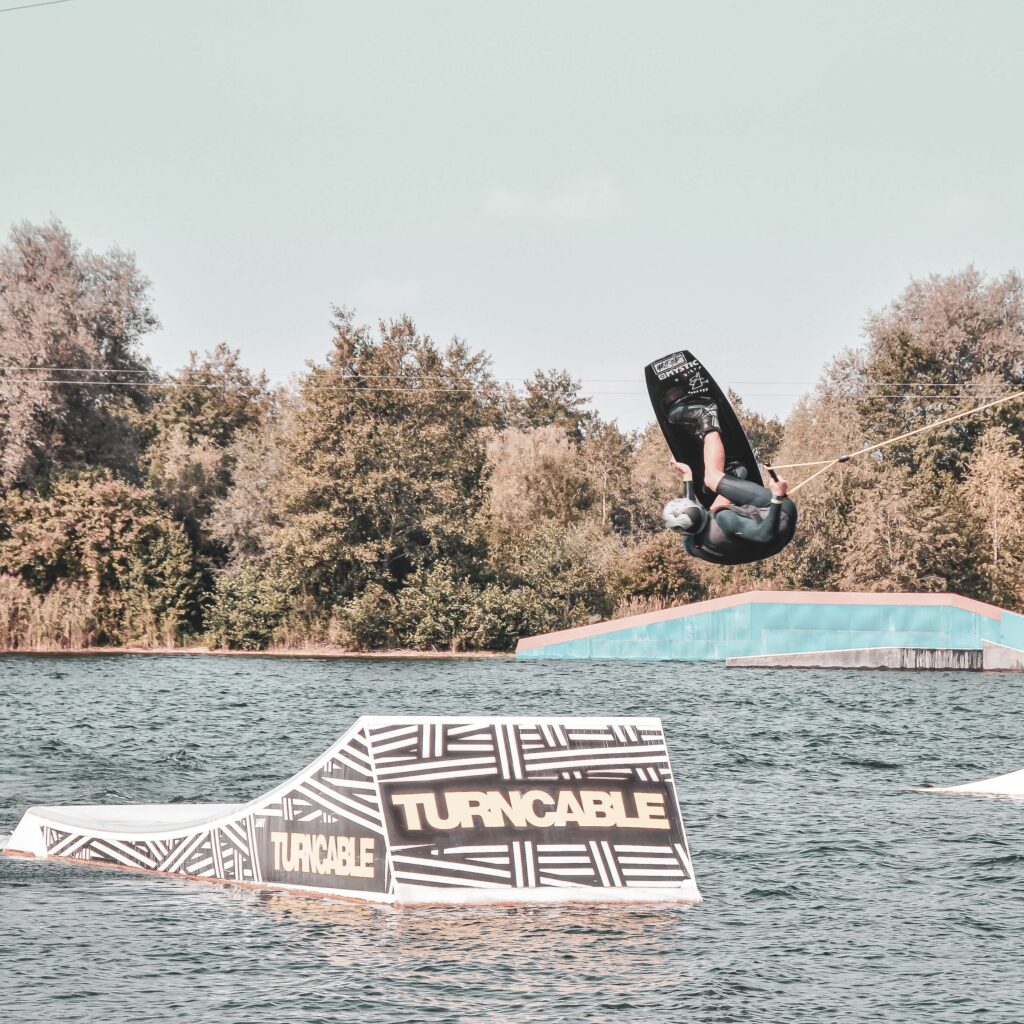 You'll probably see the term neoprene a lot. Neoprene is the rubber-based material that the best wetsuits for wakeboarding and other water sports are made from. It is stretchy, water-resistant, and keeps you protected and warm in the water.
Thickness (mm)
Next, you'll probably notice a millimeter (mm) measurement which tells you the thickness of the wetsuit neoprene. The thicker the neoprene construction of the wetsuit is for instance, the warmer it will keep you. If you are looking at wetsuits designed for wakeboarders you'll most likely see a 3/2mm option which is ideal for moderate temperatures to ward off chill, and a 4/3mm selection to keep you warm in colder regions. Pick your wetsuit thickness based on the temperature the water you're wakeboarding in typically is. Keeping your body warm improves your wakeboarding performance, and helps you make the most of your sessions.
Zippers
Additionally, there are several zipper options for the best wakeboarding wetsuits on the market that you have the option to choose from. Back zip wetsuits are super easy to get in and out of because of the large opening down your back. Next, some wakeboarders prefer chest zip wetsuits, which minimize water flushing and are more performance-oriented. Chest zip wetsuits have a smaller opening to get into the wetsuit by which some wearers, like children, might find more difficult.
In addition to these two most popular zipper options, there are also entirely zipperless wetsuits which, like chest zips, have a smaller entry opening but offer the benefit of no bulk or discomfort from a zipper.
Seams
Finally, you'll notice a wetsuit's seam stitching and seals. Types of stitching and seals include flatlock seams, which are durable and ideal for warmer watersports, and glued and blindstitched seams, which seal out cold water from coming in through the seams and keep you warmer in colder waters. Additionally, you might come across taped seams, which add an extra protective seal on top of the seams to minimize water flushing and improve durability on stress points (like elbows and knees).
What Kind of Wetsuits Are Best for Wakeboarding?
Ultimately the key is to finding the best wetsuit for your body and activity depends on a variety of factors like the temperature of the water, and the flexibility you require to excel during your sessions. There are a few main types of wetsuits you can choose from- fullsuits, springsuits, and wetsuit tops and bottoms.
As the name suggests, the fullsuit offers the most protection and warmth and comes in a variety of thicknesses. These suits have full ankle-length legs, and most fullsuits are designed with full wrist-length sleeves for maximum warmth and protection. Fullsuits may also come with an attached hood for additional warmth in colder regions. On the other hand, there are also short sleeve fullsuit options, and 'jane' and 'john' fullsuits that are entirely sleeveless, so you can enjoy a maximum range of motion in the arms in moderate water temps.
Choose a springsuit if you're wakeboarding in warmer regions. Springsuits usually have short sleeves and legs that hit mid-thigh for a better range of motion. A springsuit keeps your core warm and protected while allowing you to move your arms and legs more freely!
Wetsuit tops are great paired with boardshorts or swimsuits to give you added protection around your core from the elements. Wetsuit tops are also designed in many different styles including pullover tops, full and half front-zip jackets, and vests, and come in short-sleeve or long-sleeve options. Similarly, wetsuit bottoms come in a variety of styles including short cuts and full-length designs to protect your lower half. These individual pieces offer an extra layer of insulation, but won't offer the warmth of a springsuit or fullsuit.
Naturally, you can choose more than one wakeboarding wetsuit for different conditions! For instance, it's not uncommon to switch between a fullsuit and springsuit based on the weather, and season of the year.
Check out some of the best wakeboard wetsuit options available at Wetsuit Wearhouse!
3/2mm Men's Vissla 7 SEAS B/Z Fullsuit
The 3/2mm Men's Vissla 7 SEAS B/Z Fullsuit is a premium wakeboarding wetsuit for men. The best wetsuits for wakeboarding are super stretchy and allow for a great range of motion. This fullsuit offers great protection and warmth and 3/2mm neoprene makes it a great wakeboarding wetsuit for the spring season, or in cooler waters for those you want to be toasty warm while still enjoying major flexibility. Shop this suit here!
2mm Men's Rip Curl DAWN PATROL S/S Fullsuit
Do you like the idea of a short-sleeve fullsuit for wakeboarding? Look no further than the Rip Curl DAWN PATROL short sleeve wetsuit. Short sleeves allow for the best flexibility and range of motion for wakeboarding, and the buttery super-stretch neoprene is comfortable and super flexible.
This is a suit designed for warmer temperatures. If you're getting into cold water or you're someone that is always cold, go with a thicker suit with more coverage.
Shop the Rip Curl DAWN PATROL Short Sleeve wetsuit here!
3/2mm Women's Sisstrevolution SUMMER SEAS Flatlock Fullsuit
Sisstrevolution makes some awesome wetsuits exclusively for women and girls! The 3/2mm Women's Sisstrevolution SUMMER SEAS Flatlock Fullsuit is a great choice for a full-coverage suit for wakeboarding in warmer waters.
Plus, it comes in a super cute floral colorway do you stand out in the water during your sessions!
Shop the 3/2mm Women's Sisstrevolution SUMMER SEAS Flatlock Fullsuit here!
5/4/3mm Men's Billabong ABSOLUTE Fullsuit w/ Bibbed Hood
This suit is designed to keep you warm during seriously cold-water wakeboarding sessions. You get full coverage of the body and a detached bibbed hood that you can throw on for extra warmth on those icy days. If you want to wakeboard in cold conditions safely, check out the ABSOLUTE fullsuit by Billabong.
2mm Women's O'Neill REACTOR 2 Shorty Springsuit
This is a great starter springsuit for women. It's affordable, durable, and fashionable – what more could you want? This lightweight, flexible springsuit also features a smooth-skin front and back panel to ward off windchill, and comes in three colorways.
The 2mm Women's O'Neill REACTOR 2 Shorty Springsuit also offers an adjustable neck and a full back zipper for easy donning.
2/1mm Men's Body Glove PRO 3 Shorty Springsuit
Next up is this lightweight springsuit for men made by one of the top-rated brands in the industry- Body Glove. If you're planning for a summer wakeboarding season, the Body Glove Pro springsuit is a great choice.
Oh, and it's on sale! Shop the 2/1mm Men's Body Glove PRO 3 Shorty Springsuit now.
1.5mm Men's Rip Curl DAWN PATROL Reversible L/S Jacket
For a reliable wetsuit top, check out 1.5mm Men's Rip Curl DAWN PATROL Reversible L/S Jacket. Made for mobility and comfort, this product is a staple for your wakeboarding adventures for those days that you need a little extra warmth. Bonus- this Rip Curl top is reversible, so you get to enjoy two colorways in one top.
1.5/1mm Women's XCEL AXIS Front Zip Wetsuit Jacket
Another new arrival favorite is the 1.5/1mm Women's XCEL AXIS Front Zip Wetsuit Jacket which is designed with a full front-zipper so you can get in and out of it easily and comes in two cute colorways! Shop this jacket here.
If you like the front-zip jacket style of tops, you can also browse other brand options in similar designs here.
Shopping for the best wakeboard wetsuits for kids?
There are so many options for the best wakeboarding wetsuits and wetsuit accessories for girls and boys! Browse the selection of wakeboarding suits for the youngins here.
Start Shopping for Wakeboarding Wetsuits Now
You now know everything you need to know to start shopping for wakeboarding wetsuits! Think about comfort and function as you search, and pay mind to the thickness of your suit before buying so that you have the proper gear for the water temperatures you'll be wakeboarding in.
In conclusion, investing in a great wakeboarding wetsuit can take your skills to the next level. Wakeboard comfortably and in style this year when you choose from one of the awesome wetsuits listed above!
Not sure you've found what you're looking for? Browse our site for hundreds of wakeboarding wetsuit options.
Want to learn more about finding the best wakeboarding wetsuit? Check out this informative article by Wakeboarding Mag.